An International 'Ori Tahiti Flashmob?
Dansons partout dans le monde le même jour, une même chorégraphie de 'Ori Tahiti!
Let's dance all over the world the same day, the same choreography of 'Ori Tahiti – Tahitian dance ! It can take place on the weekend of the official date or at another time if necessary, the important thing is to gather the greatest number of dancers in a common joy of dancing.
The choreography is released several months ago for free on YouTube / Facebook, with a complete tutorial explaining steps, gestures and meanings. Thus a person can either learn the choreography directly from home or with a teacher who has learned it upstream.
 In each city, the event is organized and managed by an association or a person who makes himself known to the instigators via the registration form. The organizer must create an event on the facebook page of his dance school and name the "Flashmob Ori Tahiti" page as co-organizer. Thus, the official Facebook page lists all the places, associations and participants !
It is the responsibility of the organizer of each city to manage the choice of the place and the time, the material constraints like a powerful sound system and the necessary administrative authorizations. For the creation of a final montage, each organizer agrees to provide by Wetransfer to flashmoboritahiti@gmail.com :
A group photo on the day of the Flashmob

A video of the Flashmob

The exact number of dancers
This is a completely free and volunteer project for both participants and organizers.
Make our associations know and meet
The Flashmob aims first to make known the 'Ori Tahiti – the Tahitian dance – in the world. It is indeed a complete discipline based on the enriching values ​​of a culture. If the Ori Tahiti extends more and more to Japan and Mexico for example, still few people know him in the French metropolis and in other countries of the world. The Polynesian associations struggle to get out of the vahine cliché that people have in mind, it is an opportunity to change ideas !
  As each event usually takes place in a public and well-known public square, associations can take advantage of it to make themselves known to the general public.
             We spend a lot of time explaining to people what Tahitian dance really is, which remains relatively unknown as a complete and complex discipline. From year to year, this project allows to gather and make feel and integrate to the dancers that they are not alone, that we are everywhere in France, in Europe, in the world !
Offering a traditional choreography to all
Few Ori Tahiti teachers share their choreography online, they want to protect their work and creativity. However, many countries suffer from a lack of training in Tahitian dance and some associations that come together for the sake of Polynesia do not necessarily have competent teachers who can create their own choreographies. Mareva wants to bring a solution to these associations. For years, she has received requests for the use of her choreographies, and some associations have already hired her as a choreographer at a distance.
For Aurore Legrain, the initial idea was to gather, to unify the Polynesian associations that sometimes create wars to share the "French market". But the sun shines for everyone. Aurore was confronted with these problems when she took over the presidency of Hoa No Tahiti and she wanted to create a benevolent event in which only the positive energy of sharing would find its place.
Aurore Legrain and Mareva Bouchaux met at the Heiva i Paris 2015 where Mareva won the first prize in the Aparima category – soft choreography – and a few months later Aurore contacted her to launch a Flashmob of Tahitian dance as a choreographer.
A friendship was born and developped since, despite the distance!
Aurore Legrain was at the time president of the Polynesian association Hoa No Tahiti based on Liffré (Rennes, France).
For her part, Mareva Bouchaux is founder and artistic director of the Polynesian association Reva i Tahiti in Aix-en-Provence and Toulon, she teaches in her school but also throughout Europe for workshops.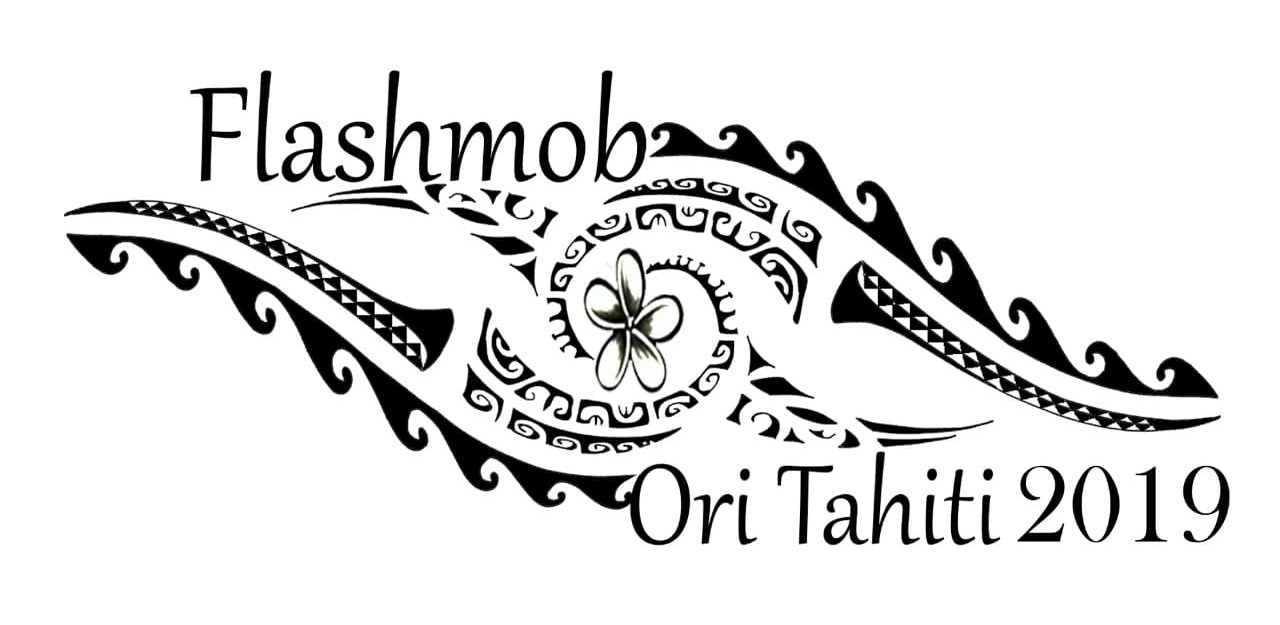 n 2018 Karina Cáceres had the opportunity to meet the Flashmob Ori Tahiti mouvement by the hand of Mareva and together with Henry Cifuentes, her boyfriend, they could see that many countries had joined this great world event, but there was no universal logo that join them and at the same time belong to each country or city.
This is how the Flashmob Logo was born, thinking about the union of different countries in a Dance
The flower in the center, is Mareva, motivating all this movement for the Ori Tahiti.
Waves that travel from different oceans to the center and intertwine with shark teeth, like clinging tightly to asame choreography.
These are some of the characteristics of this logo, which was a gift from Concepción – Chile to Mareva and the world.
All 2020 informations here !
Author : Mareva Bouchaux / Translation : Noëlle Faahu-Vaki
('Āhe'e 1)
E ao 'āpī teie.
Mata nei au ia 'oe
Tāua a'e ia hutiaho
Tāua a'e ia hinuhinu
(Roru )
Tō huru ui māere
Tō 'ā'au aroha
Hō'ē ā nūna'a tāua
Tama o te ao nei
('Āhe'e 2)
Tei 'ite nō hea mai 'oia
Tei fa'atura i tō tupuna
'A rohi 'āmui ai
'Ia pū te 'ae'ae
Child of the World 
( Verse  1)
It"s a new day
And I am looking at you
Together we breath
Together we shine
(Chorus)
Your way of being curious 
Your warm heart
We are the same people
Child of the world
(Verse 2)
We know where do we come from
We respect our ancestors
And act together
To achieve the same goal.
Translation :
ao = world, day / 'āpī = new / mata = eye / tāua a'e = together / hutiaho = breath / hinuhinu = shiny / huru = nature / māere = curious, surprised / 'ā'au = heart, from where come all emotions / aroha = compassion, warmth  / hō'ē = one / ā = again, truly  / nūna'a = people / tama = child / 'ite = knowledge / fa'atura = respect / tupuna = ancestors / rohi = to act / 'āmui = together, united / pū = conclusion, achieve (a goal) / 'ae'ae = goal.
25 countries for 60 cities Saturday May 12th 2018 on the music Aroha no Tahiti by Sabrina Laughlin.
CHOREGRAPHY by Mareva Bouchaux
Video by Pascal Rigaud & Cyril Zattara.
Almost 15 cities in France, and Barcelona joined us, Saturday May 7th 2016 on the music Taura by the group Tamari'i Hauti.
CHOREGRAPHY by Mareva Bouchaux
follow the Original Tahiti Flashmob